The Capitol Hill Community Foundation celebrates its outstanding Business Partners whose generosity helps support our Community Grants program.
These Business Partners stand with us as the Foundation works to enrich the lives of residents, enhance the beauty and cherish the history of our community. We encourage our friends and neighbors to support these businesses that have demonstrated their commitment to our community and its future.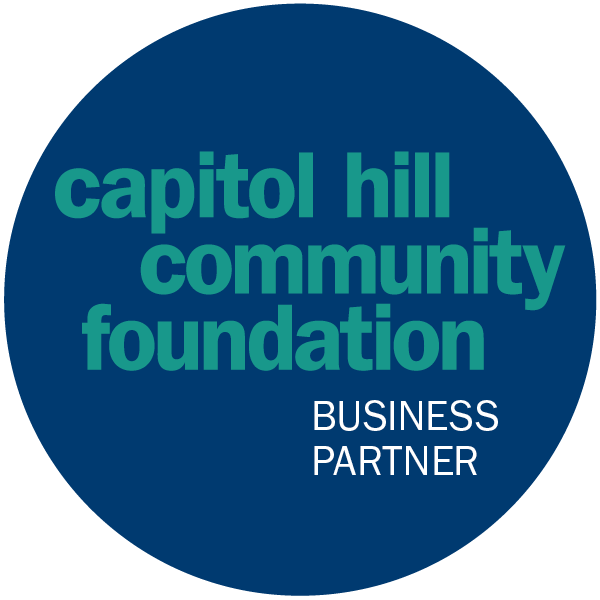 look for this sticker to identify Business Partners
Join our growing list of Business Partners
Joining puts you in the company of the community philanthropists (individuals and businesses) whose annual financial donations support community initiatives large and small, help sustain community institutions, and encourage volunteer efforts benefitting all who live in the growing Capitol Hill community.
Complete the form to the right, then make your donation online or mail a check; OR download our printable form and mail it along with your donation.
Our current business partners are listed below.
Pettie-Tubbs-Edwards Team,
Coldwell Banker Real Estate
Frame of Mine
Stanton Development
DC Access
Lawlor Architects
Larry Bowers DDS
Gary Jankowski and Michael Schaeffer, Coldwell Banker Real Estate
Eastern Market Pottery
Union Meat @ Eastern Market
Photopia
Market Lunch @ Eastern Market
Ginkgo Gardens
Heather Schoell, Berkshire Hathaway/PenFed Realty
Diverse Market Management
Johnson Law Group
Eye Central
Pendragwn Productions
Nishan Halim DMD
Acqua al 2
Tom Faison, Re/Max Allegiance
Bowers Fancy Dairy Products, Eastern Market
Rooted Pilates
Sestak Remodeling Solutions
Reformation Fitness
The Kitchen Company